Welcome to the Catholic Church of the Redeemer in Mechanicsville, VA
Our Mission: We nurture the spiritual growth of all our members through vibrant celebrations of the sacraments, daily prayer, 
lifelong study of our faith, hospitality, and compassionate service to each other and to the "world beyond our doors."
Within the pages of this site, you will find information about our church, our ministries, and our community. You will also find ways in which you can become involved by sharing your gifts and talents.  WORD describes the many ways we seek to "pass on the the faith" through faith formation and educational programs.  WORSHIP includes our worship, prayer and music programs.  Through SERVICE we reach out to fellow parishioners and the wider community.  COMMUNITY offers opportunities for our parish community, young adults, and youth to gather as people of faith.  We offer many opportunities for GIVING of your time, talent and treasure through our stewardship process and online giving. 
DIOCESAN EMERGENCY PREPAREDNESS RESPONSE TO COVID-19
Updates effective 6/15/2020
All those 10 and older must wear a face covering and sign-in when entering the building for any reason.
Anyone coming forward to receive Communion must wear a face covering.
Face coverings may not be distributed by the parish.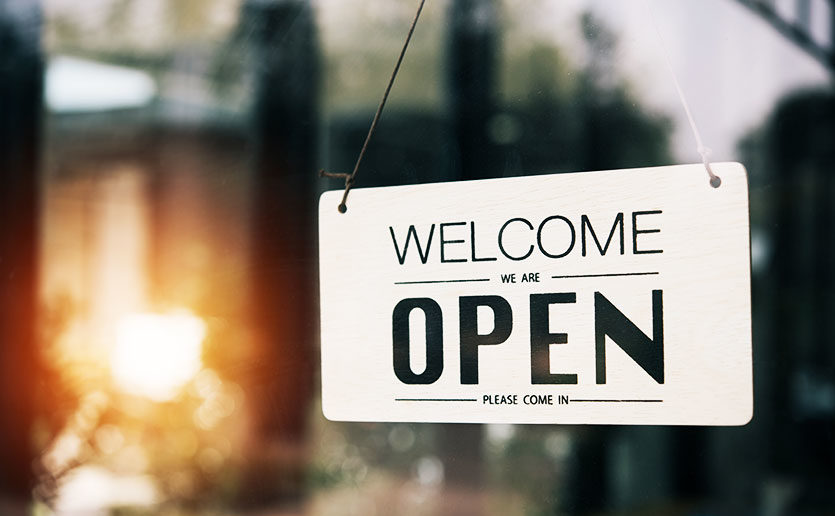 Our re-opening includes significant limits to the number in attendance,
with advance registration required,
and numerous precautions for the health of safety of all.
While we are excited to be gathering again, things will look, feel, and sound a bit different for the foreseeable future. We have worked hard to develop a parish plan for re-opening, in keeping with diocesan policies and safety guidelines.
We are now celebrating Masses at 5:30 PM Saturday and 10:0 AM Sunday, and noon on Monday and Wednesday. Before registering for Mass, please read the "Welcome Back" guidelines and "Diocesan policies" below to ensure you are comfortable following them. If you are certain you and your family would like to attend Mass, please use this Signup Genius link, listing the number who will be attending. (The link is updated each week.)
Under current diocesan guidelines, you must be able to answer 'no' to all three questions below in order for your household to be admitted at Mass. You will be asked these questions again when you arrive.
- Have you or anyone in your household had a fever in the past two (2) weeks?
- Do you or anyone in your household have a new cough or new shortness of breath?
- Have you come into contact with anyone who is positive for COVID-19 in the past two (2) weeks?
If you sign up and discover you are unable to attend, please return to the Signup Genius to adjust your registration or call the office so that others may have your space.

CLICK HERE to read the "Welcome Back" guidelines.
CLICK HERE to read the diocesan policies.
CLICK HERE to watch a brief video of "What to Expect When You Return"
Please continue to check here, on Facebook, and in "Redeemer Reminder" emails
for updates and Mass sign-up details.
As we have stressed in the past, if you fall within the 'vulnerable' category, as defined by the CDC,
we encourage you to stay home. The obligation to attend Sunday Mass continues to be suspended in the Diocese of Richmond. Do not feel that attendance is mandatory, just because it is available.
Mass will continue to be live-streamed on Facebook on Saturday at 5:30 PM,
with a recording available for viewing at your convenience.
Click HERE for the worship aid.
Click HERE to read about a "Bold Response" we can make as a parish.
If you do not already participate in E-giving you can sign up HERE,
or mail your weekly offering to church. Thank you for your continuing support.
"Resources for Praying at Home"
Online Morning Prayer, links to daily Masses and more.
"Elementary Resources"- materials to support families in sharing faith at home
"Voices of Faith" - articles, resources, and reflections
Follow us on Facebook for daily updates:
Church of the Redeemer - our parish page
Redeemer Elementary Families - for parents and children
Redeemer Music Ministry- connect with Erin and the choir
Mass Times & Office Hours
Weekend:
Saturday Vigil: 5:30 pm
Sunday: 10:00 am

Daily Mass:
Monday & Wednesday at Noon

Holy Days: 9:30 am & 7:00 pm

Reconciliation: Saturday, 4:30-5:00 pm or by appointment.

Office Hours:
Monday - Friday: 8:30 am to 4:30 pm

Summer Hours: Memorial Day - Labor Day
Monday - Thursday: 8:30 am to 4:30 pm
Friday: Closed
Upcoming Events
Scroll down to "Recent Weekly Bulletins" for details.
"Virtual Morning Prayer"


is celebrated each
Wednesday at 7:00 AM. CLICK HERE for details.

Weekend Masses
Saturday, 5:30 PM
Sunday, 10:00 AM
Register here

Red Cross Blood Drive
Sunday, July 26
8 AM - Noon
CLICK HERE and search ChurchRedeemer to register.

This Week at Redeemer
Church is open for individual prayer
Monday - Thursday
9:00 AM - Noon

The Church Office is open
Monday - Thursday
8:30 AM - 4:30 PM
Monday, June 29th
Noon - Daily Mass at Redeemer
Register here

Wednesday, July 1st
Noon - Daily Mass at Redeemer
Register here

Saturday, July 4th

4:30 - 5:30 PM
Reconciliation

5:30 PM - Mass - Register here
Mass live-streamed on Facebook

Sunday, July 5th

10:00 AM - Mass - Register here

Monday, July 6th
Noon - Daily Mass at Redeemer
Register here

Wednesday, July 8th
Noon - Daily Mass at Redeemer
Register here

The Rectory Renovations Are Complete!
Thank you so much for your generosity! Father Jim moved into the newly renovated Rectory on Wednesday, June 24th. It is absolutely gorgeous and he promises to have an Open House soon so everyone can see how their giving hearts, time, and talents made this all possible!
Diocese of Richmond
Bishop Knestout urges anyone aware of sexual abuse of minors on the part of clergy or staff of our diocese to notify civil authorities, call the Attorney General's Clergy Abuse Hotline at 1-833-454-9064, and reach out to the Diocesan Victim Assistance Coordinator, Jennifer Sloan at 1-877-887-9603.
The Diocese has also partnered with EthicsPoint to provide a completely confidential platform that allows any employee, parishioner, clergy or volunteer of the diocese to anonymously submit concerns about suspected unethical behavior, misuse of resources or financial misconduct. Reports can be made anonymously and confidentially – 24 hours a day, 7 days a week - online or by calling (844) 739-3210
Click here for the Diocesan website.
Click

here

to visit the
diocesan bicentennial website.
Click here for the
Diocesan Safe Environment Program.
Click here for information about the VA Catholic Conference, the public advocacy organization representing Bishop Knestaut, Diocese of Richmond, and Bishop Burbidge, Diocese of Arlington.
Traveling?
Visit Catholic Mass Times or MassTimes.org
for easy access to Mass schedules, church locations,
parish contact information and more.